Lyppard Hub (formerly Lyppard Grange Community Centre) is a charitable organisation working right in the heart of our community since 1993.
We offer a wide range of activities and services to those locally and beyond.
Our mission statement is:
'We will be a focal point for our community, developing, implementing and enabling initiatives which will embrace and enrich the needs of our community.'
Lyppard Hub is supported financially by Warndon Parish Council and Worcester City Council.
Governance, guidance and support is provided by a group of voluntary Trustees.  Our board of trustees are made up of community representatives including residents, parish & city councillors.
If you feel this is something you would be interested in and would like more information, please contact the Centre Manager here @ the hub on 01905 616841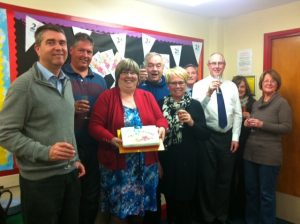 Board of Trustees celebrating 21 years working at the heart of Warndon Parish in March 2014